Welcome to desidesign technologies, your premier destination for ERP Software Development. As a leading provider of enterprise solutions, we specialise in designing, developing, and implementing comprehensive ERP (Enterprise Resource Planning) software that empowers organisations to streamline their operations, optimise resources, and drive business growth.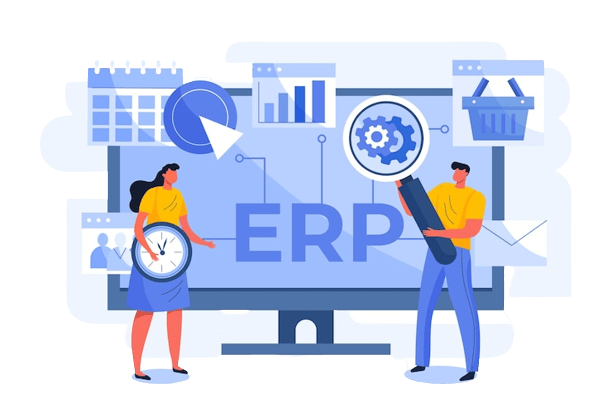 At desidesign technologies, we understand that every organisation has unique business processes and requirements. Our team of experienced developers, business analysts, and domain experts work closely with you to gain a deep understanding of your business needs, challenges, and goals. Leveraging this knowledge, we craft tailored ERP software solutions that automate workflows, centralise data, and provide real-time insights, enabling you to make informed decisions and drive operational efficiency.
Here's an overview of our ERP Software Development services:
Requirement Analysis and Solution Design:
We begin by conducting a thorough analysis of your business requirements and processes. Our team collaborates with your stakeholders to understand your goals, challenges, and key performance indicators (KPIs). Based on this analysis, we design a comprehensive ERP solution that aligns with your business objectives and optimises your workflows.
We specialise in developing custom ERP solutions tailored to your specific needs. Our team utilises agile development methodologies to create scalable, modular, and future-proof ERP systems. From financial management, supply chain, and inventory control to human resources, sales, and CRM, our custom ERP development caters to your unique business processes and requirements.
ERP Integration and Data Migration:
If you already have existing systems in place, we will ensure seamless integration of your ERP software with those systems. We have expertise in integrating various applications, databases, and third-party systems to create a unified information ecosystem. Additionally, we provide data migration services to ensure a smooth transition of your data from legacy systems to the new ERP software.
User Experience (UX) and Interface Design:
We prioritise creating a user-friendly and intuitive interface for your ERP software. Our UX designers focus on delivering an engaging user experience that minimises learning curves, enhances productivity, and ensures widespread user adoption. We design clean, modern interfaces that provide easy navigation and access to critical information.
Mobile ERP Solutions:
In the era of mobility, we understand the need for on-the-go access to critical business information. Our team develops mobile ERP solutions that empower your workforce to access and interact with the ERP system from their smartphones or tablets. This enables real-time decision-making, enhances collaboration, and improves operational efficiency, even when on the move.
ERP Support and Maintenance:
We provide comprehensive support and maintenance services to ensure the smooth functioning of your ERP software. Our team is available to address any issues, perform regular updates and upgrades, and provide ongoing assistance. We offer flexible support packages to meet your specific needs and ensure that your ERP system remains up-to-date and optimised.
ERP Consulting and Training:
Our ERP experts offer consulting services to guide you through the selection, implementation, and optimisation of ERP software. We provide strategic advice, conduct gap analyses, and recommend best practises to maximise the benefits of your ERP solution. Furthermore, we offer training programmes to equip your employees with the necessary skills and knowledge to effectively utilise the ERP system.
Partner with desidesign technologies for ERP Software Development and empower your organisation with a comprehensive and tailored solution that optimises your business processes, enhances productivity, and drives growth. Contact us today to discuss your ERP requirements and let us embark on a journey to transform your business.
Let Us Help You Launch Your Dream Project
In a variety of industries, we have collaborated with some
of the most creative companies and ideas in the world.