CRM Software DevelopmentWelcome to desidesign technologies, your trusted partner for CRM Software Development. We specialise in crafting customised Customer Relationship Management (CRM) solutions that enable businesses to effectively manage their customer interactions, improve sales processes, and enhance customer satisfaction. Our CRM software is designed to streamline your sales, marketing, and customer support activities, helping you build stronger relationships with your customers and drive business growth.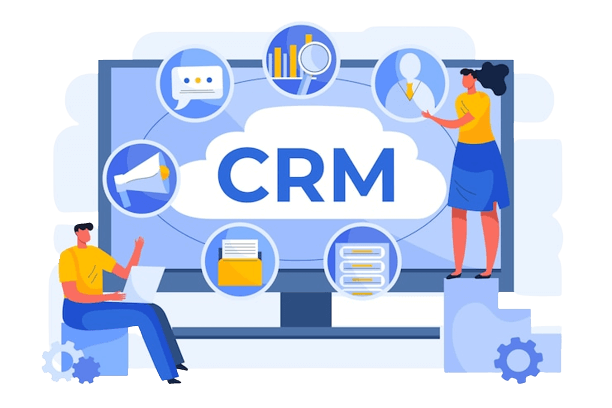 At desidesign technologies, we understand that every business has unique requirements and objectives when it comes to customer relationship management. Our team of experienced developers, business analysts, and CRM experts works closely with you to gain a deep understanding of your business processes, customer journeys, and pain points. Leveraging this knowledge, we develop tailored CRM software solutions that align with your specific needs and help you achieve your business goals.
Here's an overview of our CRM Software Development services:
Requirement Analysis and Solution Design:
We begin by conducting a comprehensive analysis of your business requirements and CRM needs. Our team collaborates with your stakeholders to understand your sales processes, customer service workflows, and marketing strategies. Based on this analysis, we design a CRM solution that is customised to your business and optimises your customer relationship management.
Custom CRM Development:
We specialise in developing custom CRM solutions that cater to your unique business processes and requirements. Our team utilises agile development methodologies to create scalable, modular, and flexible CRM software. From lead management and contact tracking to sales pipeline management and customer support ticketing, our custom CRM development ensures seamless automation and efficiency across your organisation.
Integration with Third-Party Applications:
We understand that your CRM system needs to seamlessly integrate with other business applications and systems. Our experts have extensive experience integrating CRM software with various third-party tools such as email marketing platforms, help desk systems, e-commerce platforms, and more. This integration ensures smooth data flow and enhances the overall effectiveness of your CRM solution.
Mobile CRM Solutions:
In today's mobile-centric world, having access to CRM data on the go is crucial. We develop mobile CRM solutions that empower your sales and support teams to access customer information, update records, and manage activities from their smartphones or tablets. This flexibility enables real-time collaboration, enhances productivity, and ensures that your team can effectively engage with customers from anywhere.
CRM Customization and Configuration:
Our CRM solutions are designed to be highly customizable and configurable. We understand that each organisation has unique requirements, data fields, and processes. Our team can tailor the CRM software to match your specific needs, whether it's customising data fields, creating personalised workflows, or configuring dashboards and reports that provide actionable insights.
CRM Training and Support:
We provide comprehensive training and support services to ensure a smooth transition to your new CRM software. Our team offers user training sessions to familiarise your employees with the CRM system's features and functionality. Additionally, we provide ongoing support to address any issues, perform regular updates, and assist you in maximising the benefits of your CRM solution.
Partner with desidesign technologies for CRM Software Development and unlock the full potential of your customer relationships. Our customised CRM solutions will help you optimise your sales processes, improve customer service, and drive business growth. Contact us today to discuss your CRM requirements and let us create CRM software that transforms the way you engage with your customers.
Let Us Help You Launch Your Dream Project
In a variety of industries, we have collaborated with some
of the most creative companies and ideas in the world.