Mobile Application Development
Welcome to desidesign technologies, your premier destination for Mobile Application Development. We are a leading provider of mobile app solutions, specialising in crafting innovative and high-performing mobile applications that cater to the unique needs of businesses across various industries. With our expertise in the latest mobile technologies and a talented team of designers and developers, we create mobile apps that deliver exceptional user experiences and drive business success.
At desidesign technologies, we understand the immense impact that mobile apps can have on businesses today. With the exponential growth of smartphone usage, having a mobile app is essential for effectively reaching and engaging with your target audience. Whether you need a native app for iOS or Android, a cross-platform app, or a progressive web app, we have the skills and knowledge to bring your vision to life.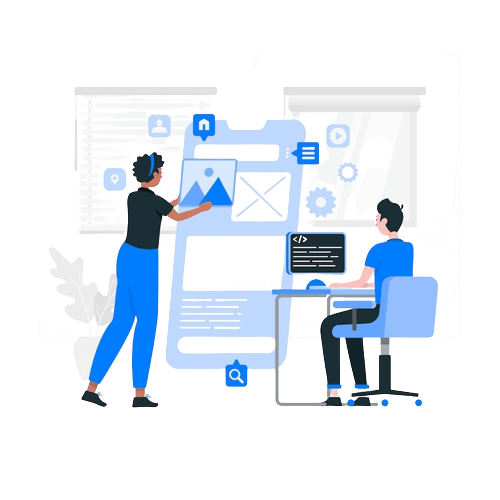 Here's an overview of our Mobile Application Development services:
We specialise in developing custom mobile applications tailored to your specific business requirements. Our team works closely with you to understand your objectives, target audience, and desired functionality. Leveraging the latest industry standards and best practises, we create mobile apps that are intuitive, user-friendly, and aligned with your brand identity.
Native App Development:
Our native app development services focus on creating robust and performance-driven applications for iOS and Android platforms. We leverage the full potential of each platform to deliver seamless user experiences, taking advantage of device-specific features and capabilities. Our native apps are optimised for performance, security, and user engagement.
Cross-platform App Development:
If you need an app that can run on multiple platforms, we offer cross-platform app development using frameworks like React Native or Flutter. With cross-platform development, we ensure consistent functionality and user experience across iOS and Android devices while reducing development time and costs.
Progressive Web App (PWA) Development:
PWAs combine the best of web and mobile app experiences. We develop PWAs that can be accessed through web browsers but offer app-like features such as offline capabilities, push notifications, and device hardware access. PWAs provide a seamless user experience across various devices and platforms, improving engagement and accessibility for your audience.
UI/UX Design and Prototyping:
We prioritise creating captivating user interfaces (UI) and seamless user experiences (UX) for our mobile apps. Our team of designers creates visually stunning app designs that align with your brand identity and provide intuitive navigation. Through prototyping and user testing, we ensure that the app design meets the needs and expectations of your target audience.
Let Us Help You Launch Your Dream Project
In a variety of industries, we have collaborated with some
of the most creative companies and ideas in the world.