Website Development Company
Welcome to desidesign technologies, your premier destination for professional Website Development services. We are a leading Website Development Company dedicated to delivering outstanding digital experiences that help businesses thrive in the online world. With our expertise in the latest web technologies and a team of talented designers and developers, we create visually stunning and high-performing websites that make a lasting impression on your audience.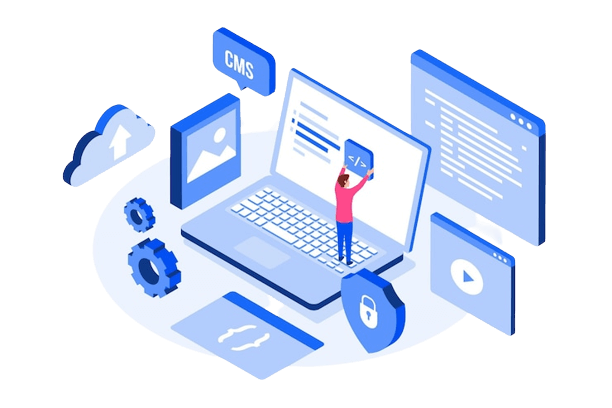 As a Website Development Company, we understand that your website serves as the virtual face of your brand. It is an essential tool for establishing credibility, driving conversions, and connecting with your target audience. Our goal is to craft websites that not only captivate visitors but also align with your business objectives, ensuring a seamless user experience and measurable results.
Here's an overview of our Website Development services:
Custom Website Development:
We specialise in creating bespoke websites tailored to your unique business requirements. Our team collaborates closely with you to understand your brand identity, target audience, and goals. We then design and develop a custom website that showcases your brand, engages your visitors, and drives conversions.
Responsive Web Design:
With the increasing use of mobile devices, having a responsive website has become imperative. Our expert designers create websites that adapt seamlessly to different screen sizes and devices. This ensures that your website looks and functions flawlessly across desktops, tablets, and smartphones, providing an optimal user experience.
E-commerce Development:
If you're looking to establish an online store, our E-commerce Development services are here to help. We leverage robust platforms like Magento, Shopify, or WooCommerce to create secure and feature-rich e-commerce websites. From product catalogues and shopping carts to payment gateways and inventory management, we ensure a seamless shopping experience for your customers.
Content Management Systems (CMS):
We empower you to take control of your website's content with user-friendly Content Management Systems. Whether it's WordPress, Drupal, or Joomla, we develop websites that allow you to easily update and manage your content, saving you time and resources. Our team provides comprehensive training and ongoing support to ensure you make the most of your CMS.
Website Maintenance and Support:
Your website requires regular updates and maintenance to stay secure, functional, and up-to-date. Our dedicated team provides reliable website maintenance and support services, including performance optimisation, security updates, bug fixes, and content updates. This allows you to focus on your core business while we take care of your website's technical aspects.
Search Engine Optimisation (SEO):
A beautifully designed website is only effective if it can be found by your target audience. Our SEO experts employ proven strategies to optimise your website's visibility on search engines. We conduct thorough keyword research, optimise on-page elements, improve website speed, and implement other SEO best practises to drive organic traffic and improve your search engine rankings.
Website Audits and Consulting:
If you have an existing website that is not delivering the desired results, our team can perform a comprehensive website audit. We analyse your website's performance, user experience, and SEO factors to identify areas for improvement. Based on our findings, we provide actionable recommendations and consulting to enhance your website's effectiveness.
At desidesign technologies, we are passionate about creating exceptional websites that elevate your online presence and drive business growth. Our commitment to quality, innovation, and customer satisfaction sets us apart as a trusted Website Development Company. Contact us today to discuss your website development needs and let us bring your vision to life.
Let Us Help You Launch Your Dream Project
In a variety of industries, we have collaborated with some
of the most creative companies and ideas in the world.